What better way to ring in the New Year than a gathering of Lightworkers in Las Vegas ready to jumpstart 2016 with a high voltage charge of love and light? The answer: there is no better way. We proved it on December 31st as all the S.T.A.R.S. (Souls Taking Action Reaching Souls) converged, 50 strong, on our beloved home in Las Vegas, A Place for Miracles. On the surface, it seemed like our usual party activities of singing, line dancing, feasting, game-playing and of course, Bingo, but there was more going on in there than meets the eyes. I could feel the energy pulsing through each and every being as we communed and allowed Spirit to play us for the evening. Yes, we were there to reminisce about the year past and intend for the year to come, but it was the palpable presence of everyone in the moment that created the magic that night. I thought, "Is this what it means to be and see only God?"
At 11:55pm, we cut our line dancing lesson short to don our New Year's caps and grab our blowers and a glass of sparkling cider. The countdown: 3,2,1…Happy New Year! You know how you are supposed to kiss and hug any person near you at that point? Well, you have never seen such a hugfest in your life. We love to hug and kiss anytime but this felt more like a true union of souls dedicated to making this next year the best ever. The hugs were the handshakes sealing the contract. We were blessed with an inspirational toast from Master Teacher Isis, a chanting of our "Isis Party" mantra and then back to the dance floor. That was just the start of New Year's day.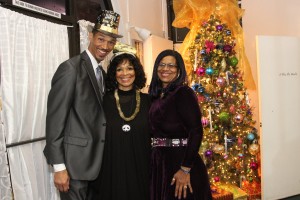 We went to our hotel for a "nap", met for breakfast and then back to A Place for Miracles, for the first circle gathering of 2016. As I sat in that circle, I felt my whole body buzzing, (in fact, so much so, that I checked in to see if I ate too much sugar at breakfast).  Seriously, it was as though my being was being played and vibrated to a whole new level that I would not be able to contain (good news!). The S.T.A.R.S. sang "I Believe" and our musical heart surgery was performed with laser precision through our voices and into the hearts of each circle member. This is what it feels like to be an instrument for God.
We spent the majority of the circle time sharing our highlights from 2015. As usual, we told amazing tales of travelling the world and having experiences that blew our minds. However, it was not the actual doing that was the highlight but the wholehearted union that we experienced with everyone we touched through our travels and the bonding with each other that stayed with us. We are each on an individual journey to that end goal of knowing ourselves as One, through the collective Christ consciousness. That may sound like a lofty ideal, but we are quickly approaching that point, and when we do, watch out! The world will never be the same.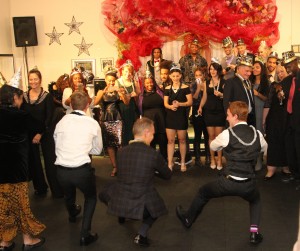 Once we had set the tone for the coming year, we then went back to the nonstop party. The rest of the weekend continued in the same fashion with movies, games, more feasting, and lots of communing. On Sunday we had the pleasure of hearing Nuhjume (the trio from the S.T.A.R.S.) perform at the Center for Spiritual Living and then again at A Place for Miracles' Sunday service. Phil Flowers inspired us with a sermon of songs and Nuhjume brought it home by "Turning Up the Music". Lana, our fabulous host, led us through a series of line dances and her son, Christopher, and his wife, Melissa, showed us the beauty of union through salsa and merengue dancing. We concluded the weekend with a last supper and a few more songs and skits.
We are all physically back in our homes now, but I know that the knot created that weekend is tied tightly and will not be undone. 2016 is the year for allowing Spirit to have Her way.  No more agenda, judgments, worries, planning, and scheming.  We are excited to see what Spirit intends to create through each one of us both individually and collectively, as we stand as the Accomplished, being and seeing only God.
Katherine Dignan (alto)
S.T.A.R.S. Correspondent